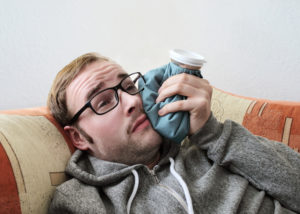 You take a fall and knock out a tooth on a sidewalk in Sunnyvale. This is a dental emergency.  Do you know what to do? Contact Dr. Joe A. Provines of the Peninsular Center for Implantology. This experienced and highly skilled dentist will give you the right advice and prompt treatment. Your oral health and comfort are very important to him and to his team.
What is Considered a Dental Emergency in Sunnyvale?
The Academy of General Dentistry (AGD) calls the following dental emergencies:
Knocked out (avulsed) tooth
Broken tooth
Severe oral laceration with profuse bleeding
Dislocated or broken jaw
Throbbing toothache
Extreme dental sensitivity to hot, cold or pressure
Lost crown, implant, or other restoration
Broken denture
Your emergency dentist in Sunnyvale will advise you on immediate care and comfort measures and get you a same day appointment as needed in the Sunnyvale, Fremont or San Jose office. Never hesitate to call Dr. Provines if you have intense pain, sensitivity, bleeding or loss of oral function.
Taking Immediate Action
Before you see Dr. Provines, there some dental first aid measures to relieve pain and stabilize your condition:
Severe oral laceration Apply firm direct pressure using sterile gauze, clean handkerchief or cloth. If bleeding does not resolve within 15 minutes, go to a hospital emergency room.
Broken or displaced jaw Go immediately to the ER.
Avulsed tooth or displaced tooth Using your fingers, move a displaced tooth back into position, and hold it there while going to the dental office. If a tooth is completely knocked out, rinse it with water, and put it in the empty socket. If you cannot replace it, put the tooth in a sealed container, and cover it with milk, saliva, water or over the counter tooth preservative. Take it to Dr. Provines because if the tooth is reimplanted within an hour of injury, its chances for long-term retention increase.
Intense toothache Take ibuprofen or acetaminophen to relieve pain. Rinse your mouth to eliminate the taste and odor associated with drainage. Apply a cold compress to the jaw –20 minutes on and 20 minutes off– to reduce swelling.
Broken tooth, filling, porcelain veneer, dental implant or crown Save fragments in a sealed container, and bring them to the office. Cover jagged edges with orthodontic wax or toothpaste.
Debris lodged in between teeth Try flossing to dislodge the material. If this unsuccessful, contact the dentist.
Take Care of Your Teeth
Urgent dental problems may occur no matter how careful we are. Dr. Provines recommends these measures to decrease chances of an emergency situation:
Twice daily brushing and flossing and semi-annual check-ups and cleanings as recommended by the American Dental Association
Wearing mouthguards to protect from sports injury and tooth grinding (bruxism)
Avoiding hard foods such as ice, taffy and peanut brittle
Never opening bottles or plastic packaging with your teeth
Please Don't Hesitate
We are here to help you and your family. Contact the Peninsular Center for Implantology with your dental emergency. You'll get expert treatment and care with kindness.