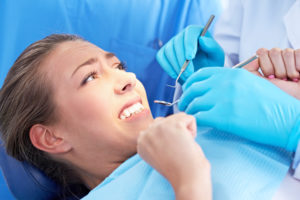 Did you know that up to 15% of Americans avoid dental care because they're scared of the dentist for one reason or another? That's just about 1 out of every 6 people. Dental anxiety is a real condition that affects many patients across the nation and the world. Even though you deal with this common fear, you're lucky to be in the Fremont area, because you can work with Dr. Joe Provines at Peninsula Center for Implantology, the preferred sedation dentist in Fremont. In this article, find out what general anesthesia is and why it's a great option for people with severe dental anxiety and other common issues.
What Is General Anesthesia?
General anesthesia renders the patient completely unconscious during a medical or dental procedure. Patients receive the sedative intravenously to put them "under" anesthesia. While under general anesthesia, patients may also be given additional medication from a face mask to ensure they remain sedated properly.
In some cases, subjects may also require a paralytic to keep them immobile during their treatment. This is typically not the case with most oral surgeries and dental visits, but the need can sometimes arise to keep patients from moving around and maintain their safety.
Why General Anesthesia Over Other Methods?
Dr. Provines is an expert when it comes to dental sedation in Fremont – he follows the American Dental Association's guidelines to ensure his patients receive the best care possible. He's seen many patients who deal with dental anxiety and prefers general anesthesia over other methods for many reasons. Of course, those with high levels of fear benefit from being under anesthesia, but this option also makes sense for a multitude of other patients.
Patients who experience pain even when using local anesthesia or oral conscious sedation are great candidates for general anesthesia.
If you have many complex dental issues that need to be taken care of, like extracting multiple teeth at once, general anesthesia could be right for you.
Some dental procedures call for muscle relaxants or paralytic medications. In these instances, general anesthesia is the right choice.
For many patients with special needs, including cognitive impairments or physical disabilities, seeing the dentist can be a difficult experience. To give our patients with special care needs the best level of service, general anesthesia is an excellent solution.
When patients who are young need complex treatments or surgeries from Dr. Provines, general anesthesia is the smart choice to keep them safe and relaxed.
Dr. Provines has over 30 years of experience as a dentist, periodontist, and implantolologist. He's a consummate professional with the education and skill you need when it comes to general anesthesia and sedation dentistry.
At the Peninsula Center for Implantology, the most difficult thing about your dental appointment is figuring out who can drive you home after you're all done. Schedule your time to see Dr. Provines today and relax, knowing you're in the hands of an expert in sedation dentistry in Fremont.