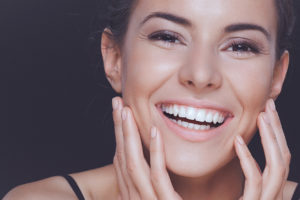 When you look in the mirror, are you happy with your smile? Or do you see a smile that is child-like and excessively gummy? Or maybe your dentist just informed you that you need to address a cavity that's been hiding below your gum line. The good news is that Dr. Joe Provines knows that you have a full, healthy smile beneath your gums that just needs to be contoured. Crown lengthening in Sunnyvale with our advanced technology at Peninsula Center of Implantology may be the best dental treatment you've experienced in a long time.
Advantages of Crown Lengthening
For those seeking dental treatments that can improve a gummy smile in Sunnyvale because your teeth seem too short or too small, Dr. Provines has become an expert in crown lengthening. We believe every smile is developed to fit each patient, but there are small improvements we can make to get you the smile that you've been desiring. As a corrective measure, your dentist can perform a cosmetic procedure to lift the gums with an innovative soft tissue laser to expose more of your natural teeth. Aside from increasing your self-confidence, the advantages of crown lengthening include:
Quick, effective procedure (30-60 minutes)
Completed in one appointment
Creates a wider, more symmetrical smile
Can remove infected gum tissues to prevent periodontal disease
PerioLase: Innovative Dental Technology
Every time dental technology is improved, the entire field changes dramatically. One of the best improvements to come about was laser dentistry. Our office is equipped with PerioLase, a soft tissue laser that makes dental procedures less invasive, more accurate, and more comfortable.
Instead of your cosmetic dentist relying on the steadiness of his hand, a scalpel, and stitches, Dr. Provines can use a laser to gently and effectively achieve the same results. When you undergo your crown lengthening procedure, you can expect:
Minimal to no bleeding
A single appointment procedure
More precise results
Quick healing process
Choose Dr. Provines To Complete Your Crown Lengthening
To plan an effective crown lengthening procedure, you must have extensive experience in the dental field. Your Sunnyvale dentist has been serving local patients both cosmetically and restoratively for the past 30 years and counting. Dr. Provines has always been committed to providing the best dental care he possibly can. Now, with the help of our PerioLase soft tissue laser and supportive office team at our Sunnyvale office, Dr. Provines can do just that.
If you've been embarrassed by your smile as an adult, contact our office. We can't wait to help you achieve the healthy smile of your dreams at Peninsula Center for Implantology.