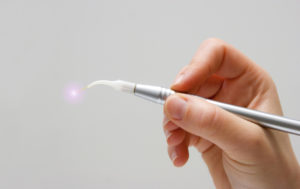 Did you know that half of all Americans suffer from some form of gum disease? That's right – from the beginning stages of gingivitis all the way to the progressive phase of advanced periodontitis, this common condition shouldn't be taken lightly, even though it's so prevalent. Tooth loss, oral infections, root problems, and severe pain can all result from gum disease, but with LANAP treatment from your trusted laser dentist in Sunnyvale, you can help stop the damage of this dental issue and restore the health, beauty, and functionality of your smile. Learn more about this innovative treatment option from the team at Peninsula Center For Implantology.
What Is LANAP Laser Dentistry?
As your premier source for laser dentistry in Sunnyvale, Dr. Joe Provines explains that LANAP is a state-of-the-art laser dental tool that assists with the following procedures:
LANAP allows our team to use pinpoint accuracy to remove only diseased gum tissue when we address periodontal disease. And, when we use the LANAP laser to perform crown lengthening, Dr. Provines will remove excessive gum tissue that is hiding your beautiful natural pearly whites underneath it.
What Are The Benefits Of LANAP Laser Dentistry?
This revolutionary treatment method improves your dental care experience in the following ways:
Less painful than traditional options
Decreased post-operative sensitivity
Less gum loss (gum recession)
Very little downtime after treatment
LANAP can even help healthy gum tissue regenerate
Is LANAP Painful?
Not at all! Contrary to what you might expect, using LANAP laser dentistry actually reduces pain for patients and speeds up the recovery process, making healing take place faster than with traditional methods. This laser makes scalpels and sutures a thing of the past, keeping you comfortable during the entire process. And, since you'll be in the hands of a consummate professional when you see Dr. Provines, you can rest assured that your smile will beam as brightly as the laser does when your treatment is completed.
If you have questions about laser dentistry, gum disease, or cosmetic gum upgrades, give us a call or schedule your appointment with Peninsula Center For Implantology today – we'll beam up your smile and your oral health!