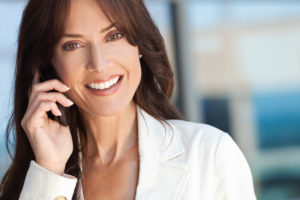 Needing tooth replacement? Explore the health and aesthetic benefits of dental implants by Joe A. Provines DMD, Sunnyvale implantologist and periodontist.
What's your best tooth replacement option? For most older teens and adults, it's the dental implant. Conferring best function, feel and appearance, the dental implant from Sunnyvale specialist, Joe A. Provine DMD, is just like a real tooth.
What exactly is a dental implant?
A dental implant is an artificial, or prosthetic, tooth. Made of a titanium screw surgically inserted into the jaw, a non-corrosive zirconia extension post and a porcelain crown, an implant effectively replaces a missing or irretrievably damaged tooth from root to crown. True jewels of versatility, multiple implants support bridges or removable or fixed dentures.
A permanent restoration, the implant anchors to the jawbone through a process scientists call "osseointegration." This stabilizing process avoids all the chewing, biting and chew issues common to bridgework and full and partial dentures. Plus, implants require no metal clasps or enamel preparation to affix them to adjacent teeth.
Additional benefits of dental implants in Sunnyvale
Besides unparalleled stability and versatility, dental implants benefit patients in other ways:
retention of jaw density and height because the implant transfers biting and chewing forces to the bone–in effect, giving it proper exercise
spanning smile gaps for a more attractive smile
keeping teeth near the empty tooth socket in place, avoiding drift and deterioration of connective tissue
a success and retention rate of more than 90 percent
lower dental cost overall as the device rarely needs replacement
The implant procedure
The patient needs adequate bone to support a dental implant. Dr. Provines examines the patient's mouth and images the underlying bone to determine its size and density. If necessary, he augments weak bone with grafts and other procedures before the implant surgery proceeds.
With sufficient bone, Dr. Provines drills a small hole into the jaw. He screws the titanium implant in place and sutures the area closed. After some weeks to months of healing and full integration of bone to implant, the dentist attaches the zirconia post and porcelain crown and adjusts the bite.
Implant longevity
Your Sunnyvale dental implant can last for decades with proper at-home care. This means twice daily brushing and careful once a day flossing. An infection called peri-implantitis threatens implant longevity when poor oral hygiene allows plaque and bacteria to infect gums and bone around the device.
In addition, smoking threatens implant retention during the immediate post-operative period and in the long-run. Scientific studies indicate that an implant in the mouth of a smoker has twice the failure rate of a non-smoker. This is because the toxins and heat of cigarette smoke compromise gum and bone health. So, the prospect of dental implants is a great impetus to quitting the tobacco habit.
Discuss your options
Dr. Provines is happy to consult with people contemplating dental implants. Whether you are facing an extraction or have an existing smile gap, the team at the Peninsula Center of Implantology can help you pick your best tooth replacement. Contact the office for a convenient appointment.