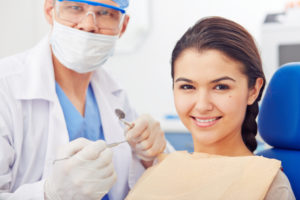 The American Academy of Cosmetic Dentistry says that visits to a Sunnyvale cosmetic dentist have increased by 200 percent in recent years. Certainly, people want the self-confidence that  great smiles produce, and studies show that individuals with attractive teeth leave favorable first impressions. But, surely, there are other reasons for this growing trend.
Why more people are going to cosmetic dentists?
Besides the obvious social benefits, people visit cosmetic dentists because they can. In past decades, cosmetic dental procedures were limited to a crown on a front tooth, dentures, bridgework or partials. Now, choices are almost limitless as people decide to whiten their teeth, replace amalgam fillings with composite resin material or get a complete, and complex, smile makeover with orthodontic correction and porcelain veneers or dental crowns.
Innovations offered by your Sunnyvale cosmetic dentist
At the Peninsula Center for Implantology, Dr. Joe A. Provines' menu of cosmetic dental services includes professional teeth whitening, lip repositioning and gingivoplasty for gummy smiles and dental implants. Each may be used singly or in combination with other treatments to give patients the smiles of their dreams.Through the use of creative imaging, photos and digital x-rays, Dr. Provines and his patients formulate realistic and creative treatment plans that foster good oral health and beautiful aesthetic results.
Professional teeth whitening is exceptionally popular because it works quickly and safely at home or in the office to whiten discolored tooth enamel by up to 8 shades of color–or more! Dental grade hydrogen peroxide gel lifts staining organic matter out of dental surfaces–without causing tooth or gum sensitivity. Results last indefinitely with:
Good home brushing and flossing
6-month cleanings and check-ups
Limitation of dark foods and beverages and smoking cessation
Occasional teeth whitening touch-ups
"Gummy smile" treatments involve lip repositioning or gingivoplasty, depending on what is causing the look of excessive gum tissue when a patient opens his mouth, laughs or smiles. Gingivoplasty sculpts a gum line to even irregular soft tissue or reveal more tooth structure. Lip repositioning lowers the upper lip so less gum tissue shows when the individual smiles.
Dental implants are today's best standard for tooth replacement. They look absolutely real,  and they feel and act that way, too.
A dental implant is made of 3 parts: a surgically placed titanium screw, a metal alloy post and porcelain crown. The titanium implant device goes right into the jaw bone, bonding to the bone through osseointegration. This strong bond exercises the jaw and preserves its strength and integrity. So, implants beautify and preserve smiles and last for decades without replacement.
For the best smile
Contact Joe A. Provines DMD for an appointment to learn more about the many choices of cosmetic dentistry. What can it do for you? Join the thousands who want renewed smiles and now have ways to get them.