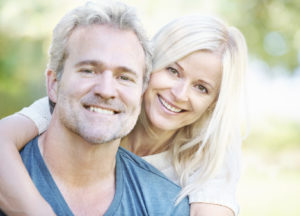 Everyone needs a dentist who can provide much needed oral and dental health care. But what if you have a special circumstance, such as a missing tooth? In this case you should see Sunnyvale implantologist Dr. Joe Provines. Unlike a dentist who may have limited education and experience in the fields of implantology and periodontics, Dr. Provines has made these areas his life's work. With a doctorate in medical dentistry from Washington University in St. Louis, a certificate in periodontics from Boston University, Goldman School of Dental Medicine and 30 years of specialized experience, Dr. Provines is uniquely qualified to rebuild smiles with dental implants and restore periodontal health.
What is an Implantologist?
Not only is Dr. Provines a dentist, he is also an implantologist. What the difference? An implantologist is a dentist who has completed additional training in the field of dental implants and implant surgery. Not only is Dr. Provines affiliated with several professional dental associations, but he is also a member of the International Congress of Oral Implantologists.
What is a Periodontist?
According to the American Academy of Periodontology, a periodontist is "a dentist who specializes in the prevention, diagnosis, and treatment of periodontal disease, and in the placement of dental implants." As a periodontist, Dr. Provines provides several treatment options for patients with gum disease and other soft tissue complications.
Implant Services
As a skilled implantologist, Dr. Provines is able to complete the entire process required to restore your smile with dental implants. An implant is a small post made of titanium that is surgically positioned in your jaw. Once the implant is fully integrated with the surrounding bone tissue, a tooth restoration is attached. The type of restoration will depend on the extent of your tooth loss; a porcelain crown is attached to a single implant, a partial can be attached to one or two, and several implants can support a full denture in order to replace an entire arch of teeth.
Other Services
Some patients require other procedures in conjunction with dental implants. For example, implants require a certain amount of bone volume in order to remain firmly secured. Patients who don't have sufficient bone may need bone graft surgery. Dr. Provines can perform this surgery prior to placing dental implants. Similarly, for dental implants that are placed in the upper jaw, a sinus lift will create additional space and added bone volume.
Call Your Sunnyvale Implantologist Today
Don't trust your new smile to just any oral healthcare professional. Schedule a consultation with Sunnyvale periodontist Dr. Provines at Peninsula Center for Implantology and find out how his knowledge and experience will benefit your smile.