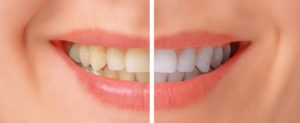 You're running for City Council in Fremont, California and you're confident in your campaign. You have great ideas, a great team behind you, and your husband and kids give you their full support. You've got the chance to make your city better, and you know the public respects you. You've even got a smile made for public office – since you had braces as a kid, your teeth are perfectly straight. You were recently on the front page of The Fremont Tribune, but something is off. In the picture, your teeth are noticeably yellow, especially when compared to your rival. It must be all the coffee you've been drinking to push through the long hours. Thank goodness Dr. Joe Provines at Peninsula Center for Implantology offers superior teeth whitening in Fremont.
How Can Teeth Whitening Make My Life Better?
Teeth whitening is the most popular cosmetic dental service nowadays, and for good reason. 96% of adults believe an attractive smile makes a person more appealing, and 74% of people think a subpar smile can hurt a person's career and limit their success in business, so it's easy to see that white teeth are important to nearly every facet of life.
And, let's not overlook the positive psychological impact that having brilliantly white teeth can cause. Having a smile you're proud of in every way leads to increased self-confidence, and can make a drastic difference in the way a person views themselves.
Hold your head up high and let your smile beam – with Fremont teeth whitening from Dr. Provines, you no longer have to be self-conscious about how your smile looks.
In-Office Teeth Whitening With Dr. Provines
At Peninsula Center for Implantology, we have the ability to whiten your teeth during a simple office visit. This safe, effective way procedure can be done in less than an hour. Your dentist will protect your gums and use a special type of peroxide to lighten your smile. Depending on the particular whitening technique you choose, Dr. Provines may use a laser or a lamp to shave time off the bleaching process. You'll be speechless when you see the amazing results.
At-Home Teeth Whitening From Peninsula Center for Implantology
If whitening your teeth in the comfort of your own home is more your style, Dr. Provines can create clear, 100% custom bleaching trays that prevent saliva from mixing with the bleaching gel, ensuring the potency of the whitening agent. You'll add some whitening gel to the trays and wear them for an hour a day. Although you'll see improvements right away, you'll notice a striking difference with 1-2 weeks of daily treatment.
If you're ready to take advantage of one of the most popular and impressive cosmetic dental treatments, the Peninsula Center for Implantology will give you get eye-catching results with their teeth whitening methods. Schedule your appointment today!