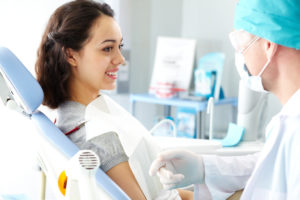 Although it is a sad reality, the fact remains that there are very few lives today that haven't been touched by cancer in one way or another. When the word cancer is brought up, people usually have an example to relate to whether it be their mother, father, siblings, friends, colleagues, or in some cases just acquaintances. It is important to consider the very realistic chance of you or a loved one having oral cancer. Dr. Joe Provines and our team at the Peninsula Center for Implantology give you the information you need to keep your mouth healthy. While many patients who develop oral cancer have a history of tobacco use and/or excessive alcohol consumption, a quarter of all cases occur in patients who have never engaged in these hazardous behaviors. That is why it is imperative to have Dr. Provines run an oral cancer screening in Sunnyvale, in hopes to catch any signs of it at its earliest stages.
Risky Factors
Although oral cancer can affect anybody, it is strongly associated with the age or gender of a person, and around 91% of all diagnoses link to lifestyle.  By changing our lifestyle choices, we can cut the chances of developing oral cancer.  Here are the two main risk factors that have proven to play a major role in contracting the disease:
Tobacco—Around one in five people smoke tobacco products, and believe it or not, tobacco accounts for two in every three oral cancer cases. There are thousands of chemicals contained in a single cigarette and they are entering your body through our mouth. There is still time to change your smoking habits, reducing your risk for oral cancer by a whole third.
Alcohol—Indulging in large amounts of alcohol consumption is another major risk factor. Moderation is key with alcohol for not just your oral health, but your overall health. The risk of contracting oral cancer is increased by a third for excessive alcohol consumers. If you need a guide on what the recommended unit of alcohol per day is, click here.
If you are a mixed consumer, meaning you smoke and drink excessively, you are increasing your risk for oral cancer by up to thirty times! It is especially important to visit your dentist at Peninsula Center for Implantology to receive regular screenings if you continue or have participated in these risky habits. Other factors such as viral infections, autoimmune deficiencies like HIV, and diabetes may also take a toll on your oral health, leading to an oral cancer diagnosis.
Symptoms of Oral Cancer
Most of the time, the earliest signs of oral cancer are mistaken for other problems, such as a painful toothache or lingering cold. If you're battling the same disruptions to your health for weeks at a time, consider visiting our office for a screening for oral cancer in Sunnyvale. Dr. Provines will be able to spot the signs and symptoms early on. Some of the telltale signs of oral cancer include:
Persistent mouth sores
Continuous mouth pain
Lumps on your cheek
White or red patches on your gums
Sore throat that lasts for weeks
Difficulty swallowing or chewing
Difficulty moving your tongue or jaw
Numbness within your mouth
Loose teeth
Change in voice
Weight loss
Chronic bad breath
Regular Screenings Are Important
If any of these oral cancer signs are present for days or weeks, Dr. Provines will quickly and painlessly screen your mouth for cancer with ViziLite. ViziLite is an identification system that detects tissue abnormalities and is used along with traditional visual exams. All adults should have an annual ViziLite exam because a quarter of oral cancer victims are non-smokers, don't drink, and have no lifestyle factors to heighten their oral cancer risk. Men over forty and women between the ages of twenty and forty are the most prone to the disease. Our office commits to providing comprehensive, preventive oral health care that carries on past our dental office. Contact us today to schedule your first oral cancer screening!