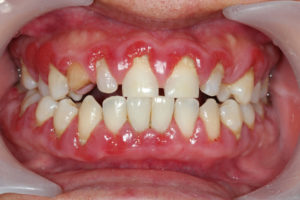 Gum disease doesn't just affect patients that have bad oral hygiene. It is fairly easy to get gum disease no matter what age or habits you have. Many factors may play into it, even your genetic makeup. For instance, take Tully as an example. He was only 29 when he was diagnosed with periodontal disease (advanced gum disease), and quite distraught. After practicing good oral hygiene, he was still susceptible to bone loss and losing his natural teeth. Dr. Joe Provines and his supportive team at the Peninsula Center for Implantology offer periodontal therapy in Sunnyvale. This offers patients just like Tully the opportunity to get their oral health back on track, hopefully saving their natural teeth in the long run. Our office is passionate about rebuilding the foundation of your smile, let us help you revive your smile!
What is gum disease?
Your gums and jawbone are the supporting structures for your smile. These two important aspects of your mouth keep your smile functional, keeping your teeth strong and speak and chew. Gum disease is a serious—but very common—condition that compromises your oral health. Untreated gum disease can lead to its more advanced form: periodontal disease. When your oral health starts plummeting, it can also bring your general health down with it. There have been studies that show periodontal disease having direct correlations to diabetes, heart disease, and various forms of cancer! Your periodontist in Sunnyvale doesn't just look out for your dental health, but we are concerned for your overall health as well. If you find yourself experiencing any of these symptoms, please visit our office as soon as possible!
Red, swollen gums
Tender gums
Bleeding when brushing or flossing
Buildup of pus between gums
Loose fitting teeth
Receding gums
Pockets of infection along your gum line
Chronic bad breath
How can our office help you?
With enough neglect, your gums could eventually become infected with gum disease. When this happens, your gums will start to recede and form small pockets. Plaque then gets trapped within these pockets and cannot be removed with regular brushing. You should definitely see your dentist at this point. Without visiting the dental office, you will be on the fast track to bone and tooth loss.
Luckily, our office offers periodontal therapy to correct settled gum disease. Your dentist will complete two complimentary procedures: scaling and root planing. Dental scaling is the most common nonsurgical way to treat gum disease or its advanced form, periodontitis. Basically, your dentist will use a dental instrument to manually remove the plaque from the teeth and beneath your pocketed gum line. Sometimes, if your gums are extremely infected, he will also remove the infected tissue. Root Planing takes place to smooth the surfaces of your tooth roots. This step makes it easier for your healthy gums to grow back and reattach to your teeth. Root planing also prevents further infection down the road.
Painless Procedures
Describing periodontal therapy sounds painful, but we promise, our office isn't filled with evil dentists! Dr. Joe Provines and our office want you to feel comfortable. Living with infected gums is already painful. The last thing we want to do is cause any more pain for our patients seeking help. A local anesthetic can be administered to help make your dental visit pleasant.
If you're looking for a dental office that will be judge-free in your level of infection, look no further. We are here to help restore your healthy smile. We also have the services to help you prevent further infection. Contact our Sunnyvale office today for help with your tender gums!