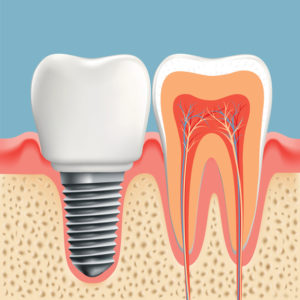 If you are among the 178 million adults in the United States missing at least one tooth, you need an effective form of replacement. The most preferred and successful option involves dental implants in Sunnyvale. This procedure replaces both the root and crown of the tooth with an option that closely mimics natural teeth. Designed to last a lifetime, they allow you to make a true investment in your oral health and quality of life. However, they do tend to cost more than traditional solutions, like dentures. To help make them more affordable, your insurance may cover a portion of the cost.

Premier Provider for Delta Dental
At Peninsula Center for Implantology, Dr. Joe Provines is a premier provider for Delta Dental. As a participant, he has pre-negotiated fees for dental procedures, including dental implants. This helps to keep services affordable as the rates are predetermined for added protection and savings. To help maximize the value of your dental benefits, we will work on your behalf to file the necessary claims with your insurance to help keep out-of-pocket costs to a minimum.
Coverage for Dental Implants
Dental implants do cost quite a bit if you do not have help from your insurance company. With the cost of the treatment varying from patient-to-patient, it can be difficult to estimate exactly how much you will pay if you do not fully understand your dental benefits.
While your insurance will not cover the entire procedure in full, they will cover certain aspects of the treatment. For example, if you have a tooth that needs to be extracted prior to the implant placement, as much as 75% of the extraction will be covered depending on your specific insurance plan. In addition, the restoration that is attached to the implant post will partially be covered.
Delta Dental will also pay a portion of the implant and abutment. However, they will only pay the amount that it would cost for a conventional denture. In some instances, more of the procedure may be covered depending on the nature of the tooth loss, such as if it was due to injury or disease.
In addition to your dental coverage, there are several other factors that will influence how much you can expect to pay out-of-pocket, such as if a specialist or bone graft are needed. To help you understand how much your procedure will cost, we will discuss your treatment and payment options.
Affordable Dental Care
When it comes to your dental care, you deserve to benefit from the best periodontist in Sunnyvale. We do not want to see you continue to live with tooth loss due to the cost of dental implants. We will work with your insurance company to maximize the value of your plan. In addition, we offer multiple payment options, including credit cards and third-party financing.
If you are ready to make an investment in your smile with dental implants, it is time to schedule your consultation with Dr. Provines. We look forward to rebuilding your smile.