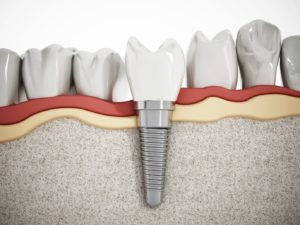 Are you ready to replace your missing teeth using a permanent solution? You are making a wise investment in your dental health and quality of life by choosing dental implants. To start your journey to a complete smile, you must first find someone to handle the procedure. Although many general dentists offer the service, it is best to choose a periodontist in Sunnyvale. Due to special training, it will ensure the procedure is successful to treat your tooth loss. At Peninsula Center for Implantology, Dr. Joe Provines has undergone extensive training to safely and effectively replace your missing teeth.

What is a Periodontist?
A periodontist is a dental professional who has completed three additional years of advanced training in the prevention, diagnosis, and treatment of periodontal disease. However, their additional qualifications do not stop with the gum infection. They are also experts in the placement of dental implants and oral inflammation.
Dr. Provines is a skilled and reputable periodontist and implantologist for dental implants in Sunnyvale. After completing his doctorate in medicine from Washington University in St. Louis, he furthered his education to receive his certification in periodontics from Boston University, Goldman School of Dental Medicine. As a result, he holds a complete understanding of what is needed to ensure the success of dental implants.
Why Do I Need a Periodontist?
Dental implants offer over a 95% success rate, which is why more than 500,000 are placed each year. While they are the most predictable and accurate form of tooth replacement, their success relies on the implant post placement procedure. If there is any error with the placement, your risk for failure will increase. A periodontist, like Dr. Provines, is specially trained to ensure the proper placement of the posts to give you a beautiful, lasting smile.
In addition to the improper placement of the posts, infection is also a leading cause for implant failure. Often, the underlying cause of tooth loss involves gum disease. To ensure the tissue is no longer infected and to resolve the damage it has caused, a periodontist is specially trained to take these aspects into consideration when placing the posts and creating your treatment plan.
By accessing the underlying jawbone and your oral health, Dr. Provines will create a customized treatment to promote the long-term success of the procedure. Using diagnostic images, he will determine the precise location for the implant posts. This will allow the jawbone to fuse to the posts to ensure they remain in place for a lifetime without any complications.
Where is a Periodontist Near Me?
If you are ready to regain a healthy, complete smile with dental implants, you deserve to benefit from the best. Do not choose just anyone to handle your procedure. Take the time to find a periodontist, like Dr. Provines, to restore your smile. With Dr. Provines by your side, you can rest assured that you are in good hands for a successful treatment.
Permanently treat your tooth loss today. Contact Peninsula Center for Implantology today to schedule your consultation.