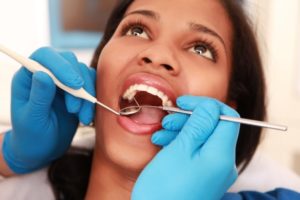 Your teeth should last you for a lifetime; however, for 74% of adults, this is not the case. It is not uncommon to need to have a tooth extracted, which is often the result of decay, disease, or infection. When you need one removed, a general dentist can often handle a tooth extraction in Sunnyvale, but it is often better to see a periodontist. A periodontist specializes in the treatment of periodontal disease and tooth replacement. By having the specialist performing the procedure, you will have your dental health rehabilitated and your missing tooth replaced from one location.

Benefit from a Periodontist
A leading cause for tooth loss is due to an infection that occurs in the gum tissue, known as gum disease (periodontal disease). It destroys the roots and supporting structures of the teeth, causing them to be extracted to stop the damages from progressing. A periodontist specializes in treating the infection and repairing the complications that have occurred.
When your tooth is removed by a periodontist in Sunnyvale, he will not just remove it, but will also repair the damaged tissue and control the spread of the infection. This will protect your remaining teeth to ensure that no additional tooth loss occurs in the future.
In some cases, an extraction may be due to trauma or decay, which may have caused additional damage to the supporting structures of the teeth. A periodontist is specially trained to repair the issues to rehabilitate your dental health.
In addition to removing the tooth, treating infections, and reversing damage, a periodontist also specializes in tooth replacement solutions. Prior to the removal of the tooth, he will find an appropriate form of replacement to restore your smile. This not only allows you to remain confident about your appearance, but will slow or stop the progression of oral health complications that are associated with tooth loss.
With the entire process handled by one professional, you will benefit from high-quality results to restore your oral health and functions. You will not need to be referred to another location for each stage of treatment. All your needs are met in office to save you time and money without compromising the quality of the results you receive.
Choose One Specialist for Your Extraction
The removal of a tooth is a big decision that should only be used as a last resort when there are no other viable options. If an extraction is in your best interest, choose a periodontist to handle the procedure while creating the solution you need to fill the empty space.
About Dr. Joe A. Provines
Dr. Provines is a skilled periodontist and implantologist who has provided exceptional dental care for more than 30 years. He is specially trained and qualified to handle tooth extractions while also providing comprehensive solutions to treat tooth loss, like dental implants. If you need to have a tooth removed, contact Peninsula Center for Implantology to speak with Dr. Provines today. He will help you understand your options to protect your dental health.