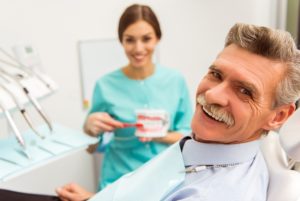 Now, when needing an invasive treatment, many patients have come to prefer sedation dentistry. While it is safe and effective, there are times when traditional options, like oral conscious sedation, may not be enough. As a result, your periodontist may recommend the use of general anesthesia. This will render you completely unconscious during the procedure. When choosing an anesthesia periodontist, you can expect a different experience than when using other forms of sedation.

How Can General Anesthesia Help Me?
General anesthesia is used when a patient requires complex procedures, such as the placement of dental implant posts. It is also often recommended when multiple treatments must be performed. To make the experience easier for the patient, this renders them unconscious and may be paired with paralytics to keep them immobile during the treatment. This offers a simpler and safer option for patients who need advanced surgical procedures when compared to the use of other sedatives, such as intravenous sedation.
What Can I Expect with General Anesthesia?
Prior to undergoing anesthesia, you will require a comprehensive consultation to ensure that you are a candidate. Your medical and lifestyle history will be evaluated for safety to minimize the potential for rare side effects.
During the procedure, you will be given fresh oxygen and sleep medicine may be administered through the mask if necessary. Special equipment will be used to monitor your vitals and oxygen levels while you are sedated. You will quickly fall asleep, allowing the procedure to be quickly completed.
When the treatment is finished, you will awake within 15 to 30 minutes afterward. It is normal to feel a bit drowsy, dizzy, or disoriented while you are waiting for the effects to wear off. You will be monitored for a short period of time prior to going home.
It can take several hours for effects of anesthesia to dissipate, so you will need someone to drive you home and stay with you after your appointment. For the next 24 hours, it is best to avoid operating a vehicle or heavy machinery. In addition, you do not want to make any critical decisions until you have recovered from its effects. You will be advised to avoid alcohol and certain prescription medications, which can interact poorly with the anesthesia.
In some cases, side effects can occur, such as nausea, vomiting, sore through, muscle soreness, and inflammation around the injection site. If any of these occur, they will subside shortly.
Where Can I Get General Anesthesia?
If you need anesthesia during your dental procedure, it is best to choose a periodontist who has received additional training to safely and effectively administer the sedative. With a qualified professional by your side, it is a safe and effective option during your treatment.
About Dr. Joe A. Provines
Dr. Joe A. Provines is a skilled implantologist and periodontist who is supported by more than 30 years of experience. Due to his extensive qualifications and training, he can safely and effective offer sedation dentistry, including the use of general anesthesia. If you have any questions about anesthesia, please contact Peninsula Center for Implantology today to schedule a consultation.