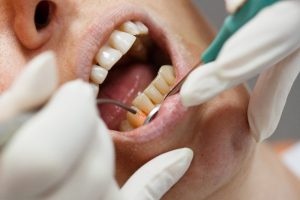 Are you embarrassed by your gummy smile? You might be a candidate for gum recontouring. Although you've heard about its benefits, sutures and scalpels are enough to deter anyone; however, what if you could skip the cutting and stitches? Laser gum recontouring is a revolutionary treatment used to remove and reshape gingival tissue. The minimally invasive procedure is virtually pain-free. Here's how you can achieve a healthy, beautiful smile with laser dentistry.
What is Laser Gum Recontouring?
Besides your teeth, your gum line is equally important for a healthy, attractive smile. If you have excess tissue, your teeth likely look small, but that's not the only concern. Too much tissue can increase your risk of tooth decay and gum disease. Maybe extra tissue isn't the issue. Instead, you might have an uneven gumline from periodontal disease. No matter the reason, laser gum therapy in Sunnyvale might be an option for you.
A highly concentrated beam of light energy is emitted from a small handheld device to target tissue with precision. This not only removes the need for a scalpel but also provides an unmatched level of accuracy. The laser quickly and painlessly removes the intended tissue while sterilizing and cauterizing the area. You won't need to worry about a long recovery because you won't need sutures. The laser also reduces the risk of post-operative complications, like swelling, bleeding, and infection. Your gums may be a bit tender for a couple of days, but they will heal quickly.
What are the Benefits of Laser Gum Recontouring?
When compared to the traditional method, using a laser for gum recontouring offers exceptional benefits, including:
Comfortable Procedure: Laser dentistry is virtually pain-free, but your dentist may use a local numbing agent to keep you comfortable.
Accurate Results: The thin laser beam allows your dentist to only remove the intended tissue while leaving those around it untouched.
Less Risk of Infection: The laser sterilizes the area, killing over 99.9% of bacteria. Besides lowering the risk of infection, the laser can also treat gum disease by killing the bacteria.
Less Bleeding: The dental laser cauterizes the tissue while it's removed to prevent any bleeding during and after the procedure.
Permanent Results: You won't need to worry about the tissue growing back. Once the laser removes it, it will be gone for good.
Better Gum Health: The laser stimulates the regeneration of healthy gum tissue, allowing it to re-adhere to the teeth to prevent infection.
Benefit from the Best Today
If you're ready to say goodbye to your gummy smile, it's time to invest in laser gum recontouring. Your dentist will give you a healthy smile that you'll be proud to show off.
About Dr. Joe A. Provines
Dr. Provines has over 30 years of experience in dentistry. Besides earning his dental degree, he also received his Certification in Periodontics. He is a proud member of the American Academy of Periodontology. Dr. Provines regularly continues his training to provide advanced solutions, like LANAP in Sunnyvale. If you're interested in laser dentistry, contact our office today to schedule your consultation.